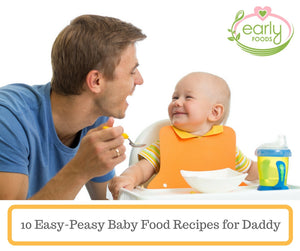 When moms come home late from work, or has gone out with her friends leaving your baby under your care. The biggest worry on a father's mind is, what do I do if my baby cries for food? 
It's very overwhelming to enter the kitchen not knowing where to start, so we have put together a few really easy recipes for dads new to the kitchen! 
All these recipes are really quick and can be made under 10 mins. Anyone can cook, so just get started, and of course more practice in the kitchen will make you perfect!
Eggless Russian Salad is an assortment of colorful veggies mixed with hung curd, herbs spices. The steaming retains the flavor of the vegetables and keeps the nutrients intact. It's a super easy recipe and we hope you can give a competition to the baby's mama;-P
Beetroot has a ton of health benefits. Beets are high in immune-boosting vitamin C, fiber, essential minerals like iron, potassium, and manganese. It has the highest sugar content of all vegetables but releases sugars very slowly into the blood. Here is a 10 min simple recipe that can be made using leftover rice. We hope your kid loves this dish prepared by you.
A smart combination of carrot and pasta in soup, allows the dish to be nutritious and also a learning opportunity for your little babies to pick and eat up the pasta on their own. The chewy pasta adds a new texture to the baby's food too! Add amla powder to replace salt in the soup.
This recipe is the most nutritious out of the lot. It has the goodness of protein-rich almonds and the iron-rich dates, combined with chocolate to make it so heavenly. There cannot be a cleverer way to get these nutrients in your toddler in the guise of a chocolate :-P. If fresh dates is not available, simple add dried dates powder to replace refined sugar.
Once the porridge mix is made, it hardly takes 5-6 mins to cook it with water or milk to make a creamy yummy slurrpy meal. Check our organic ready porridge mixes made freshly for your baby. More than 8 different variations from millets, dry fruits, seeds and veggies.
 Who does not love eggs? They make the easiest breakfast option with bread. And eggs are a great way to get some vitamin D, which is normally obtained through sunshine. Seasoning with a little bit of pepper & turmeric, a little bit of garlic will add in the anti-oxidant and anti-bacterial properties too!
Aloo Poha is quick to make and whole some too. With peanuts and potatoes it is so filling for breakfast. This is best for those hurry burry mornings when you have to pack lunch for the kiddo and also get them ready. Ready in 10 mins and your work is done!
Ragi Sevviyan is like eating noodles but with a powerhouse of calcium in it. The complex carbs and fibre will ensure a tummy filled satisfied look on your naughty kid's face. 
If the dosa batter is ready, dosa is a 3-4 min affair. You can make it crispy or soft, but when we add crunchy onions in a nutritious ragi dosa batter it becomes difficult to resist. 
Bananas are a very rich source of potassium and calcium.This is an easy recipe for the dads, it just needs an overnight planning of freezing ripe banana's the previous night. A filling that will leave your kid bursting with energy all day long.
Here are some organic homemade products that you can stock in your kitchen for use in these recipes. We make them fresh, so it's completely free from chemicals, preservatives or any artificial flavors.
As parents, hoping these easy recipes get you started off to share the load in the kitchen. Its not just the effort, but its a starting point to build a great relationship with your child.
Happy Feeding!
Early Foods Team
Leave a comment
Comments will be approved before showing up.