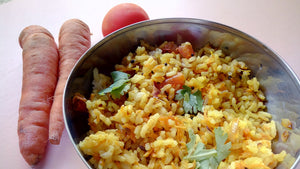 Carrots are super rich in fibre and vitamin A, however children may eat only a few pieces and say 'I am done'. So here is a way where you can try and give a lot of whole carrot to your kids in a yummy way. Made in 20 mins and makes a great lunchbox food too.
Ingredients:
Rice
3 Carrots - Peeled and grated
1 Chopped Tomato
1 Chopped Onion
1 Small Sliced green Chilli
1 Lemon
Mustard, Curry Leaves, Jeera for seasoning
1/4 Spoon of Turmeric
Pepper - 2 pinches (just to increase absorption for Turmeric)
Cold pressed oil (groundnut or coconut)
Salt to taste
Method:
1. Cook the rice (regular method and keep aside)
2. Take a broad stainless steel pan, add 2 tsp of oil and season with mustard, curry leaves, jeera and the sliced chilli.
3. Add onions and roast for a min till they slightly turn brown.
4. Add the tomatoes and grated carrots and cook for 3-4 mins.
5. Add turmeric, salt and give a final stir
6. Once this mixture cools down, add the lemon juice and mix.
7. Add in rice to this mixture, mix well and serve warm.
And once you cook, let us know how your little ones enjoyed this..
Leave a comment
Comments will be approved before showing up.