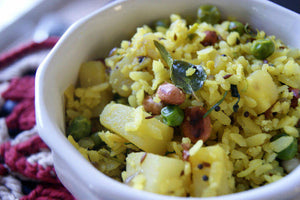 My first experience of eating poha was when I newly got married. I had a luxury of my maid preparing hot potato poha for breakfast, and I totally enjoyed this with a cup of chai at the end of the meal. This took less than 10 mins to make and was very filling and nutritious because of the groundnuts, peas and potato added to this one pot meal.
This quick recipe of potato poha is a great option for kids too, especially when they are running out in a hurry for school in the morning or as a quick evening snack when they come back hungry from play. 
Its good for babies too because poha or beaten rice is easy to digest and they can get their hands on the diced potatoes and try to feed a little bit on their own. So lets get started to tell you how to make this super simple dish..
Ingredients:
2 cups Poha (Beaten Rice)
1 Pealed & Chopped Potato
Handful of Green Peas (optional)
1 Green chilly sliced in half
½ Tsp Chana dal
½ Tsp Urad dal
½ Tsp Mustard Seeds
4-5 Curry leaves
2 Tsp Peanuts
2 Tsp Oil
½ Tsp Turmeric powder
1 Tsp Lemon Juice
Handful of finely Chopped coriander leaves
Salt to taste
Method:
Soak the poha in water for 2 mins. Wash and drain all the water.
Heat oil and season it with chana dal, urad dal, mustard seeds, peanuts, curry leaves and fry until they crackle.
Add chopped potatoes, turmeric powder, green chilly and salt (optional). Saute till its cooked
Add the poha, coriander leaves and stir on a low flame for 5-7 mins
Let it cool for some time and then add lemon juice.
Mix and serve warm
Leave a comment
Comments will be approved before showing up.