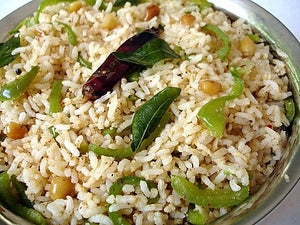 Capsicums or Bell Peppers are crunchy yet soft & easy to bite for little kids. These are also very little or mildly spicy and are a great source of vitamin C. This recipe is super easy to make and can be a good option for breakfast or to pack away lunch for your toddler.
Preparation Time: 20 Mins
Ingredients:
1 Cup basmati Rice
1 1/4 cup ( all 3 colours together)- Chopped Capsicums                     
½ Tsp Turmeric
½ Tsp Pepper
¼ Tsp Chilli Powder
1 Chopped Onion
1 Chopped Tomato
1 Tsp Dhaniya or Coriander Seeds
Salt to Taste
For the seasoning:
1 tbsp Oil
1 tsp Mustard Seeds
Method:
Wash and soak basmati rice for 20 minutes. Cook rice keeping ratio of rice: water as 1:2, keep the cooked rice aside.
Heat oil in a pan, add mustard seeds, when they splutter, add finely chopped onions and saute till it turns transparent.
Now add the tomatoes, chopped capsicums, turmeric, pepper, coriander powder & salt (optional).
Saute on high flames till the capsicums are slightly cooked. Do not overcook as the capsicums should be crispy and not soggy.
Mix cooked rice gently, garnish with coriander leaves and serve hot with raita or any gravy.
5 Health Benefits of Capsicum for Kids:
Capsicums have very high levels of Vitamin C that are great for building immunity in children. Red capsicums have higher Vit C than green.

Rich source of beta-carotene that is good for the eyes

Rich source of Vitamin E

The Vitamin C in capsicum helps with the absorption of iron, preventing iron deficiencies and anaemia

Capsicum also promotes proper blood clotting and strengthens bones
Leave a comment
Comments will be approved before showing up.