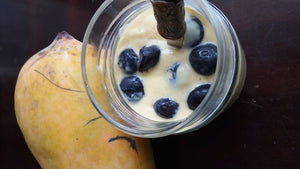 #NoSugar #BabyWeaningRecipe #Hungcurdrecipe #Recipeforlactoseintolerant
My latest discovery has been to create smoothies from hung curd or yogurt. Its so simple and I personally feel its a better option than a mango milk shake because it will have a lot of good bacteria from the curd too
:-) Plus, its an option for kids who are lactose intolerant. Its also thick enough that babies who can try and eat a bowlful on their own without dropping too much.
Ingredients:
Hung Curd 1 cup
Mango - 1 Medium Sized
Blueberries/Stawberries/Grapes/Cherries (Optional)
Blend Hung Curd with chopped pieces of mango. Add the berries and enjoy.
Hung Curd Recipe:
Take a bowl of fresh curd/yogurt. Place a broad fine sieve over a bowl. Place a muslin cloth/un-used cotton handkerchief too or a coffee filter paper to cover the sieve and add the curd on to it. Cover it with a plate and keep it in the fridge for 6-8 hours. The muslin cloth filts all the water content and keeps fresh thick curd on top. Use this immediately to gain benefits of the good bacteria in curd.
Leave a comment
Comments will be approved before showing up.