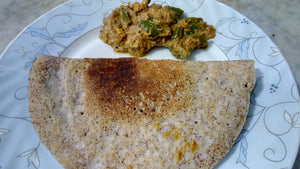 Sharing my mother's innovation to make dosa without rice. Rice no doubt is a staple food of India, but it does come polished and refined these days that its final nutritional value is definitely lower than millets. So this is an inspiring recipe made with Kodo millet which substitutes the function of rice in dosa.
Also, this is a great recipe for parents looking to make a new dish with Ragi apart from the regular porridge. This Ragi Dosa is made in the traditional way of fermenting the batter for 7-8 hours. Fermentation significantly increases the nutrition value of the food and makes it so easy on the little stomach to digest. 
 Soaking Time: 2-4 Hours
Fermenting Time - 7-8 Hours
Preparation Time: 5 Mins
Ingredients for the batter:
Kodo Millet – 1 Cup
Ragi or Finger Millet – ½ Cup
Channa Dal – 2 Tsps
Udad Dal – 1/2 Cup
 Method to make the batter:
Wash and soak all ingredients for 2-4 hours.
Don't add too much water to soak, add just enough that a thin layer of water covers the grains. We don't want to lose the vitamins and minerals by throwing away this water.
Grind them to a fine paste and keep the batter to ferment overnight.
 Method to make Ragi Dosa
To begin with add some drinking water (less than 1 cup) if the batter is very thick
Heat the pan, drizzle with oil and pour as we do for regular dosa.
Cover the dosa with lid, so the steam heats up the layer facing the top.
Drizzle some more oil and cook on a medium flame for 3-4 mins
Serve warm with your favorite chutney or sambhar.
Note: Keep the remaining batter in the fridge and use it  before 3 days max. 
2 Responses
Leave a comment
Comments will be approved before showing up.