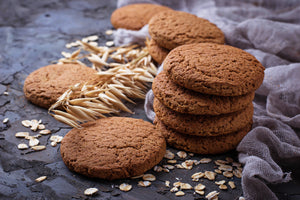 These fibre rich cookies are so easy to make and comes handy when your hungry kids come back from play, while travelling or even when you want to enjoy a healthy snack with your family with an evening tea or coffee!
This recipe uses no maida at all, can be made without sugar too and its simply delicious & crunchy! The best part I love about these are , that they need no soda or baking powder. Simple home made chemical free cookies.
Cooking time: 30 mins
Ingredients:
Ragi - 1 Cup

Whole Wheat Flour - 1 Cup
Cold Butter cut in pieces (Saltless) - 1 Cup
Brown Sugar or Jaggery or Dates Powder - 1 Cup
White Til or Sesame Seeds - 3 Tea spoons (optional)
Vanilla Essence - 1 spoon or elaichi powder
Milk or water - 3-4 Teaspoons
Note: You can buy Sprouted Ragi Powder and Dates Powder from our website. Click here check and add them to your cart :-)
Instructions:
Sieve 

ragi

and wheat flour. Mix them well.
Add all the remaining ingredients to make a tight dough. Dont add too much milk. It should be slightly harder than the chappati dough. Knead it for 5-10 mins
Keep the dough in the fridge for 10 mins
Make small balls and press them in your palm to make them flat and round. It can be about 3-4mm thick they will rise when baked.
Preheat the oven at 180 degrees for 10 mins
Bake these biscuits for 18 mins at 180 degrees
They will still be soft once they are baked. Let them cool down for 15-20 mins and they will turn hard and crispy.
3 Responses
Leave a comment
Comments will be approved before showing up.