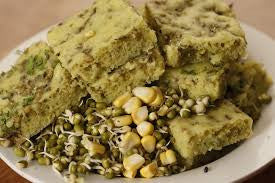 Early Foods aims to innovative recipes and help you include sprouts in a fun meal while making it an enjoyable time for both the mother and the child. Adding sprouts to recipes is extremely beneficial to your child's diet. It adds a lot of protein, minerals and makes it super easy to digest for your baby.
Read 11-reasons-to-feed-sprouted-grains-to-your-children-everyday here.
So here is 'Sprouts Dhokla, another delicious & healthy finger food for your family. Protein content becomes much higher with the combination of gram flour or besan.  And adding a variety of mixed vegetables to dhokla brings in a lot of new flavour & nutrition.
Ingredients:
Green Moong beans sprouts-coarsely grounded - 1 Cup
American sweet corn - 1/2 cup
Grated Carrot - 1/4th cup
Grated Bottlegourd - 3/4th cup
Ginger - 1 Tsp grated
Asatoefida - Half pinch
Bengal Gram Flour - 2 TBSP
Tumeric powder - Half pinch
Salt (optional) Use Lemon or Amla powder to flavour
Oil - 1 Tsp
Eno (fruit salt) - 1 pinch

For the Tempering:
• 1 tbsp oil
• 1/2 tsp split black lentils (urad dal)
• 1 tsp mustard (rai) seeds
• 1 tsp cumin (jeera) seeds
• A few curry leaves
• 2 garlic pods, crushed
(Suggestion: For toddlers use very low amount of salt, about half pinch of preferably rock salt. Also, Eno is a better alternative to soda especially for babies above 1 year)
Check out detailed instructions to make sprouts using lentils here.
Method:
In a bowl, mix together the coarsely ground moong sprouts, grated carrot, grated bottle gourd, ginger paste, besan, asafoetida, salt, and turmeric.
Mix everything together to make a coarse mixture. The consistency should be medium and not too runny. Add the American corn now.
Use a dhokla plate with a heightened rim. Now, grease the plate and put it on the stove.
Next, add the eno in the moong dal mixture spread on the hot plate and spread it evenly.
Steam it in a dhokla maker as shown in the above picture for 12 to 15 minutes or until the dhokla is cooked.
Once dhokla is cooked, you can remove them from the stand and keep them in a hot case.
Heat the oil and add all the ingredients for the tempering one by one. Cook for a few seconds then pour this tempering over the cooked dhokla.
Cut the dhokla into pieces of the favorite shapes of your babies such as stars, heart, circle and serve it warm.
Hope you enjoyed this nutritious recipe.
1 Response
Leave a comment
Comments will be approved before showing up.