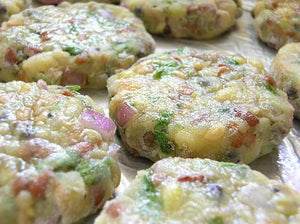 It is very important that your baby is given a well-balanced meal that is wholesome in nutrients. It keeps them full for longer and the mommy super satisfied. Sprouts are superfoods for babies, read to why they are so awesome.
Cutlets are a favorite finger food for all children. So why don't we use an innovative method and add a power packed punch of nutritional sprouts in them. It is also a pleasant break for the kids from the regular dal-roti-sabzi and very appetizing too. Here is a simple procedure 
Preparation Time: 15 Mins
Total Cooking Time: 30 Mins
Serving Size: ~ 15 Cutlets
Ingredients :
Steamed & Mashed Kidney bean, Whole Lentils sprouts - 2 Handfuls
Big size Boiled Potatoes - 2
Medium sized Onion - 1
Chilli powder - To Taste
Black Pepper powder - To Taste
Salt (Optional) or Amla Powder 
Lemon juice - 1 
Coriander leaves chopped - 1 Handful
Whole wheat flour or Multi-grain flour - For Dusting and Shaping Cutlets
Note: For babies younger than 8 months, please use whole green moong sprouts and avoid Rajma or Chole. They might be heavier to digest for your baby. For older babies, start with the bigger grains slowly.
You can read our article on detailed sprouting procedure here.
Method:
In a steamer add the kidney bean/lentils sprouts with half a cup of water.
After 10 mins take out the steamed sprouts, and keep it aside
Except the wheat flour, mix all the ingredients with the steamed sprouts and mash them well
Adjust the dough into any cutlet shape that your toddler will be excited looking at (eg- Star or Heart Shape). Now roll each of this piece in the wholewheat or multi-grain flour.
Now, line the baking tray with a butter paper and grease it with very little oil.
Place your cutlets leaving enough gap between each, as the mixture tends to spread during baking.
Brush your cutlets with little oil on the top.
Bake at 150-180 degrees centigrade for about 20-30 minutes.
They should be slightly crisp on both sides.
Serve warm. Your little ones will be ready to hold it in their tiny fingers and munch up the yummy cutlet
Leave a comment
Comments will be approved before showing up.