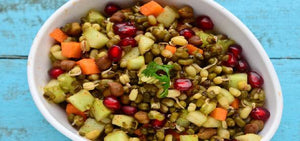 Fruits are loved by all toddlers and when we combine them with these nutrient-packed healthy sprouts it becomes a bonus win-win for the mother. The Mixed Sprouts Fruits Salad has a little bit of everything, giving your plate a dynamic look, with different flavors and textures. It is super healthy and can be had as a filling finger food not just by growing babies but anybody. Lots of antioxidants from the fruits and veggies help keep your body cells fit and fine!
Ingredients:
1/2 Cup Mixed Sprouts of Green Moong beans & Chickpeas (chana)
1 cup - Pomegranate seeds
1 - Pear cut into small pieces
1 - Muskmelon cut into small pieces
1 - Papaya cut into small pieces
Handful of Chopped Mint Leaves(Pudina)
1/2 Tsp of Amla powder for a Tangy Taste
A pinch of Hing
If you are new to sprouting, check out the detailed method to sprout whole grains here.
Method:
Put all the mixed raw sprouts in 1 cup of hot boiling water and in the process of boiling add a pinch of Asafetida (hing) in it, to ensure it doesn't create gas in the growing baby's tummy when consumed.
Cook for 10 mins and drain the water and keep the steamed sprouts in a bowl.
You can use the drained water for soups, kneading a dough etc. Dont throw it away.
Combine all the remaining ingredients in this bowl containing steamed sprouts and toss well
Add mint or pudina and amla powder for that extra punch of Vit C.
Toss well 
Serve it in a fancy bowl and we bet your toddler won't be able to resist its colorful look
Leave a comment
Comments will be approved before showing up.