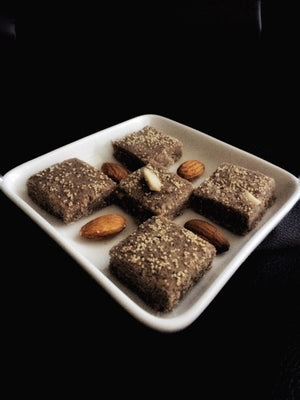 Who does not like chocolate? And why do we always blame the kids for eating them. Btw, Cacao is healthy, manufacturers add lot of vegetable oil, sugar and milk powder to make it unhealthy and filled with calories. The raw cacao powder is actually full of minerals, vitamins and anti-oxidants. So, here is a super healthy dessert recipe for your  kids, who wont even know about Ragi being added. 
Cooking Time: 10 Mins
Ingredients:
Instant Ragi/Nachni flour – 1 cup
Grated Fresh Coconut – 1 cup
Cacao powder – 2 Tsp
Jaggery – ½ cup
Dry Dates Dates powder ½ cups
Melted Ghee/Coconut Oil – ½ cups 
Note: You can buy Instant Organic Ragi/Naachni Flour and Dry Dates Powder for this recipe from our store. Click here to see more about them.
Method:
Take a heavy bottom pan, add 1 cup water, 2-3 Tsp of ghee/oil and bring to boil. Best to use a medium flame to allow gentle cooking.
Add the jaggery and allow to melt and bring to boil.
Add grated coconut, Instant Ragi flour, Cacao and dry dates powder to the melted jaggery and mix well.
Stir continuously and keep adding ghee/oil little by little for the mixture to get together.
Cook until the mixture starts to leave the side of the wok. Switch off the heat and pour the mixture into a greased tray.
Using a knife, cut it into square blocks and leave it to cool.
 You can make Instant Ragi flour at home yourself. You will need to buy the whole ragi grains, wash & sundry. Roast the grains for 15-20 mins till it crackles when you bite them. Cool the grain, grind them to a fine powder. Sieve & Store for all your recipe innovations:-)
Now if you are a busy parent or really not someone who likes to work in the kitchen. You can buy 100% organic instant ragi flour, free from sugar, salt, milk powder chemicals, pesticides and added flavors, directly from our store - where we have done all the hard work for you & your little one :-)
Leave a comment
Comments will be approved before showing up.