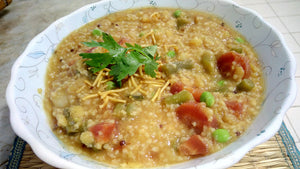 I recently read a report published by the Millet Network of India, about how we have all seemed to just stick to two main staple foods - Rice & Wheat, which unfortunately is not the most nutritious grains grown in India. It also requires 4-5 times more water content to grow these grains as compared to millets. Its saves some worries that our farmers take about rainfall, requires little or no pesticides and are super nutritious too.
Since then, I am trying to innovate the regular rice recipes with millets. And this time it is the famous Bisi Bele Bath, a tangy and sweet dish, but made with Kodo millet. Have it hot and you just wont realize its not rice
:-P
Try this recipe and join me to create a millet revolution
:-)
Ingredients:
1 Cup- Toor Dal
1 Cup - Kodo Millet
2 Cups Chopped Vegetables (Cauliflowers, Beans, Carrots, Peas, Potatoes, Capsicum and any other veggies you like)
Jaggery - 2 Tbs
Amla powder (more healthier) / Tamarind Paste - 1 Tsp
Sambhar Powder - 1 Tsp
Rock Salt - According to taste
Cold pressed groundnut oil/coconut oil, Mustard Seeds, Curry Leaves for Seasoning
Coriander for garnishing
Method:
Cook the toor dal and kodo millet separately. Next, season and gently half cook the vegetables with very little water, sambhar powder, jaggery and salt. Add the cooked toor dal, kodo millet and 1 -2 cups of water and cook for 10-15 mins on a medium flame.Add extra water to adjust for consistency. Garnish with a little coriander and its done
:-)
The slightly sweet and tangy kodo millet bisi bele bath is a wonderful balanced dish for your little ones. Its soft to chew so even the babies can take a few first bites. 
Try and let me know how this one goes
:-)
You can also try other millet porridges from our store for your little ones. The sun-dried amla powder for this dish can be purchased from our store too. Click here to buy.
#earlyfoods #earlyfoodrecipes #babyfoodrecipes #toddlerfoodrecipes#organicbabyfoodonline
Leave a comment
Comments will be approved before showing up.
---
YOU MIGHT ALSO LIKE