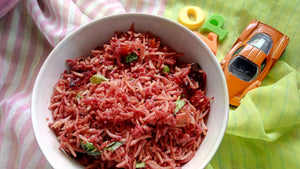 Iron deficiency is very common in children and women. I remember my friend telling me of how her mom was significantly deficient in iron was taking supplements for a long time and nothing improved. Seeing no change, she decided to switch to a natural iron rich option (Beetroot and Spinach) smoothie. She had one glass of smoothie everyday for 6 months and the iron deficiency issue never returned.
That is how strong natural food is. It can heel us and protect our bodies. 
This is not a smoothie recipe, but an idea where beetroots can be made into a delicious rice. The colour is so beautiful and vibrant that it can make kids excited about it. 
Try it and let us know your feedback on how they enjoyed their meal.
Total Time Time: 25 Mins
Rice
4-5 Beetroots - Peeled and grated
1 Chopped Tomato
1 Chopped Onion
1 Small Sliced green Chilli
1 Lemon (to reduce the salt content)
Mustard, Curry Leaves, Jeera for seasoning
1/4 Spoon of Turmeric
Pepper - 2 pinches (just to increase absorption for Turmeric)
Cold pressed oil (groundnut or coconut)
Salt to taste
Method:
1. Cook the rice (regular method and keep aside)
2. Take a broad stainless steel pan, add 2 tsp of oil and season with mustard, curry leaves, jeera and the sliced chilli.
3. Add onions and roast for a min till they slightly turn brown.
4. Add the tomatoes and grated beetroots and cook for 3-4 mins.
5. Add turmeric, salt and give a final stir
6. Once this mixture cools down, add the lemon juice and mix.
7. Add in rice to this mixture, mix well and serve warm.
2 Responses
Leave a comment
Comments will be approved before showing up.
---
YOU MIGHT ALSO LIKE