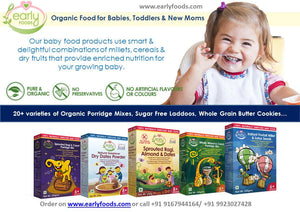 Nowadays, kids have become very fussy about food. It is a mammoth task to feed your toddler, much more difficult than any academic activity that we can think of! Toddlers have much more important stuff to do, who cares about food. But poor moms cant see their babies deprived of nutrition and resort to what not,  just to shove the spoon into their little mouths.

Our baby refuses the normal stuff that we eat, and still manages to have his way. That is, having the only baby food that was previously available in market, CERELAC. But thanks to Shalini's new venture, Early foods, we have a healthy alternative option now.
Read the entire honest story of how Kritika, a new mom who became less guilt free after starting Early Foods porridge mixes for her 1 year old son.
http://kritika2016.blogspot.ae/2016/03/early-foods.html
Leave a comment
Comments will be approved before showing up.