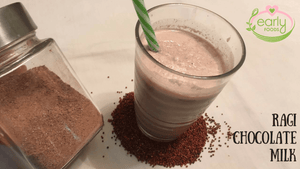 When you utter the word  "chocolate" in front of your toddler you will see all happy smiles but with the slightest mention of "milk"; you will consider yourself lucky if you still find them around you and not disappeared. Keeping this in mind we bring to you a combination of chocolate+milk, while this combo is sure not new but with the addition of the wonder grain Ragi we can quickly whip up a glass of nutritious, tasty and healthy Ragi Chocolate Milk. The calcium and other essential vitamins in Ragi, when combined with the goodness of cocoa and the protein in milk will make this a wholesome meal so next time they are giving you a hard time to feed them breakfast.;
Try our innovative recipe and share with family and friends.
 Below is our detailed description of our recipe on Ragi Chocolate Milk.
Preparation Time: None
Total Cooking Time: 10-12 mins
Serving portion - 2 Glasses (125ml each)
Ingredients
Ragi Grains - 1/4 cup/50g
Unsweetened cocoa powder or Raw Cacao Powder - 2 tbsp/30g
Castor sugar - as required (Substitute to sugar-Early Foods Dates powder)
Cold Milk - 250 ml
Method:
1. Place a non-stick pan on the stove.
2. Put the ragi grains in the pan and roast for 10 mins on low heat.
3. Keep it aside to cool completely.
4. After it has cooled down and put it in a grinder.
5. Add cocoa powder and sugar.
6. Grind it very well into a fine powder.
7. Sieve the mixture.
8. If the grains are still remaining, put it into a smaller grinder and grind again.
9. Sieve the mixture again.
10. Transfer it into a jar and store.
To Serve:
1. Put 2 tsp/10g of the powder in a blender and add 250 ml cold milk.
2. Blend it well.
3. Pour the milk into a glass and serve.
Leave a comment
Comments will be approved before showing up.