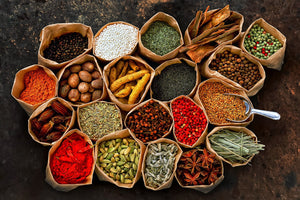 During pregnancy, a fetus is introduced to a variety of flavors that come from spices the mother consumes. Strong flavors such as garlic, cinnamon are often passed into the amniotic fluid and later these flavors are passed through breast milk. To tickle those taste buds we bring to you a variety of different herbs and spices that can be included in your babies diet as soon as you start solids. Its not just taste or flavour but these herbs/spices have medicinal benefits for your growing child.
In general, it is recommended to wait until eight months to introduce spices to your baby's diet. The reason is to help prevent stomach upsets or any allergic reactions. You can start earlier with a tiny pinch of it too. As mentioned, if you have been enjoying these spices since conception, your baby will most likely recognize and relish it too. 
1. Pepper
Recommended Age-  At 8+ months; A small pinch to start with.
Benefits - Advantages of pepper for your toddlers is that it helps in digestion and prevents the formation of gas. The piperine present in black pepper stimulates the taste buds to produce more hydrochloric acid. This acid is essential to digest all the proteins derived from food. This prevents indigestion and reduces the chances of colic forming. Ensure to use a very small quantity; just a pinch of it in their foods to add that extra zing of spice to it.
Ideas/Recipes- -The powder of black pepper can be stored in the refrigerator and less than half a pinch can be added to their savory foods like dal-khichdi, omelet, and boiled eggs & veggies.
2. Cinnamon
Recommended Age - -  At 8+ Months in powder form. Use just a pinch for flavoring.
Benefits - Cinnamon can make anything taste better. It has the highest antioxidant strength compared to other spices and is more than fruits & veggies too. The oil present in cinnamon was traditionally used as a remedy for colds and clearing chest congestion. It helps develop a better immunity in growing children too.
Ideas/Recipes- This powder can be used to entice reticent toddlers to drink a glass of milk, it can also be sprinkled on soups, pancakes, daals or bland savory porridges to give a delicious flavor to it.
3. Tumeric
Recommended Age - At 7+ months in powder form. Just a pinch to start with.
Benefits - Turmeric is the most healing herb used for anti-inflammatory, antiseptic, antioxidant since ancient times. The main component 'Curcumin' helps purify the blood, improves respiratory ailments, improves liver functions, heals stomach disorders. 
It also helps the body digest the proteins and fats well. Tumeric naturally changes the food colour to bright yellow making it visually appealing for kids to eat.
Tip: Have turmeric with a pinch of pepper make the body absorb the properties & nutrients of turmeric 10,000 times more than just having plain turmeric.
Ideas/Recipes- Fresh turmeric or curcumin is available in season. It can be grated and added into daals or boiled khichdi rice. The powdered turmeric can be used in dal, gravy, salads, soups or even just plain hot milk with a little pepper.
4) Garlic
Recommended Age - At 7+ months. Start with only one clove per day.
Benefits - One raw crushed garlic clove contains the antibiotic equivalent of 100,000 units of penicillin. Its such a powerful antibiotic. The advantages of garlic for baby are that the phytochemicals present in this tiny clove are highly effective in killing bacteria from the colon and small intestine keeping all infections at bay. It keeps baby's heart healthy and is rich in Vitamins C, B6 and B1 along with minerals like Selenium, Calcium, Copper & Iron.
The pesticides in our fruits & vegetables contain many heavy metals and toxins. And garlic can help eliminate lead & other heavy metals from the body. 
Ideas/Recipes - One clove can simply be grated and added to the everyday daals, mixed in a batter of dhoklas, mix the juice of grated garlic in vegetable soup, chutneys etc. Raw the better :-)
5)
Parsley
Recommended Age -  At 6+ months. Less than 1/4th spoon of chopped parsley to start with.
Benefits -  Many western cultures rely on parsley as a remedy for a lot of ailments like cold, fever and body aches which definitely makes it worth much more than just plainly using it as a garnish. Parsley is a very good source of vitamins and minerals such as vitamin C, vitamin A, B complex vitamins, vitamin K, vitamin E, calcium, iron, magnesium, potassium, phosphorous, sodium, and zinc. 
Ideas/Recipes- This tasty herb can be blended into soups, sauces, chutney, finely chopped for salad etc. The juice of parsley can be made by grinding it in a mixer and passing it through a sieve but not more than 1 tablespoon can be given for babies.
6) Basil (Tulsi)

 
Recommended Age -  At 6+ months. Two leaves at a time to start with.
Benefits - It has a very refreshing and beguiling flavor that comes with many medicinal properties attached to it. This herb comes in many varieties from thai lemon to purple opal however it is best to use our regular home grown tulsi for the babies.  Tulsi water keeps the immune system strong of these growing babies and also cures a cold in a jiffy. Basil is an excellent source of vitamin K and manganese; a very good source of copper, vitamin A, vitamin C; and a good source of calcium, iron, folate, magnesium and omega-3 fatty acids.
Ideas/Recipes -  For tulsi water; Tulsi leaves can be chopped and added to hot water.This water when cooled down can be given to your toddler to drink throughout the day.
7) NutMeg (Jaiphal) 
Recommended Age - At  8+ months and less than half a pinch powder form.
Benefits -  This spice is still suggested by most grandmothers for little babies for easing bowels and giving a good sleep. Nutmeg is rich in Vitamin C, Folic Acid, Riboflavin and Beta Carotene - And minerals like manganese, Magnesium, Copper, Zinc.
It's commonly used for stomach aches, gas, diarrhea, and other digestive disorders.
Ideas/Recipes - Add less than a pinch of nutmeg powder to soups, savory dishes or anything sweet and you are sorted!  A decoction can be made by adding half a pinch in water and 1 tsp jaggery. Even just using honey and a pinch of nutmeg powder can ease stomatch upsets.
8) Cumin Seeds (Jeera)
Recommended Age -  At 6+ months onwards and one pinch in powder form per day.
Benefits-  Which Indian staple lunch can be complete without a pinch of these jeera seeds crackled up in oil or ghee of daal or sabzi. It's a miracle spice for stomach disorders like gastritis, constipation, nausea, indigestion, gas or colic in babies.
They are an excellent source of minerals like zinc, selenium, iron, copper, calcium & manganese. Overall it helps in absorbing & assimilating of various nutrients by the body.
For pregnant mothers, it's a cure for nausea or morning sickness and is also known to strengthen milk production during breastfeeding.
Ideas/Recipes- For toddlers it is best suited in powder form. A pinch of roasted jeera powder can be added to a glass of buttermilk, kadhi-rice, dal, gravy, soups, salads, raitha, parathas.
9) Pudina or Mint Leaves
Recommended Age - At 6+ months, fresh leaves are the best!
Benefits - Pudina is one of the most healthy herbs which is largely used for its amazing curative properties. It has antifungal and antibacterial properties making it a wonderful herb for kids and adults. It's a natural remedy for gas troubles and stomach aches in kids as the menthol present in pudina helps in easy digestion. It also boosts kid's immunity. Pudina contains small amounts of potassium, magnesium, calcium, phosphorus, vitamin C, iron and vitamin A.
Ideas/Recipes - Pudina chutney can be used as a yummy combo with the finger foods like dhokla, idly etc., Salad Dressing, Pudina tea. Innovative recipes like pudina paratha is also a great idea.
10)  Ginger  
 Recommended Age - The ideal time to introduce ginger is 2 months after solid foods have been introduced. So preferably at 8+ months. Freshly grated ginger paste or dry ginger powder.
Benefits - Ginger is one of the oldest known herbs and condiments are known to our ancestors.One of the major benefits of ginger is that it provides a remedy for digestive problems such indigestion, food poisoning, constipation and effectively treat cold and cough.
It contains a potent ingredient called 'Gingerols' which is a powerful painkiller and immune booster.
Ideas/Recipes - You can prepare a decoction using fresh ginger with a little lemon. Dilute it with warm water and feed your little one. Grated ginger can be added to their savory porridges, soups and daals for an extra flavor of spice. Dry ginger powder can be added with a little turmeric and given with hot milk.
11) Curry Leaves
Recommended Age to Start -  At 6+ months. Curry Leaf powder or paste.
Benefits of including it in diet - The health benefits of curry leaves are providing optimum nutrition along with the healthy growth of hair.  Curry leaves are very rich in essential nutrients & minerals like copper, minerals - iron, phosphorus, fiber, magnesium. 
Its an excellent source of calcium & folic acid. So great for babies & pregnant women too.
Ideas/Recipes -  Tadka with fresh curry Leaves with daal or added in poha and upmas for elder kids. The sun-dried curry leaf powder can be added to a variety of dishes like a masala or a chutney.
12) Clove 
 Recommended Age to Start - 12+ Months.
Benefits of including it in diet - Cloves are one of the most popular spices from South East Asian countries. The flower buds from clove plant are dried and used as a spice in various cuisines including Asian. The oil derived from clove has plenty of medicinal properties and is known for boosting the immune system.
Clove oil is considered to be a blood purifying agent, with its antimicrobial properties and antioxidant properties, it is ideally suited for controlling disease-causing infections, even from the inside.
Ideas/Recipes: You can roast clove and add to their curries or boil them in water and then pass it through a sieve to be used as a decoction for cold/cough.
13) Hing/Asafoetida 
Recommended Age to Start -  At 6+ months. A pinch can be added to savory foods.
Benefits of including it in diet - Whenever we generally hear the name of this spice we immediately characterize it with an unpleasant odor, but what we miss is the numerous health benefits that it has. It is the best home remedy for relieving flatulence and stomach problems from babies to adults. It has antiepileptic, antimicrobial, anti-inflammatory,  laxative, nervine stimulant and expectorant properties. It is also known to ease anxiety due to its sedative qualities. It is useful for preventing colic in babies.
Ideas/Recipes - Just mix ghee and a pinch of hing and put it all over on the belly button. This will relieve the gas in few minutes. For consumption purposes add a pinch of hing to the baby food when it is boiling. Hing can be added mainly to daals, khichdi or a vegetable gravy at the time of seasoning.
14)  Coriander Seeds
Recommended Age to Start -  At  8+ months and less than half a pinch powder form.
Benefits of including in diet -  Coriander seeds have antioxidant properties and dietary fiber that help in the healthy working of the liver and facilitate bowel moments. They help in the generation of digestive compounds and juices that facilitate the procedure of digestion.
It is a good source of Vitamin C, Phosphorus, Potassium, Zinc, Copper and Selenium. Its also rich in fand a very good source of Dietary Fiber, Calcium, Iron, Magnesium and Manganese.
Ideas/Recipes- Try and add coriander seeds to boiled water and after it has cooled, pass it through a sieve and make them drink it as a decoction, You can also ground these in a mixer and use the powder about 1 teaspoon in vegetable curries.
15) Fennel Seeds (Saunf)
Recommended Age to Start -  At 6+ months. Mostly given as a medicine and not as a nutrient food. 
Benefits of including in diet -  Fennel, an aromatic and flavorful seed is highly regarded for its medicinal properties. It is considered to be a remedy for colds, colic, digestive disorders. It's also a natural laxative and prevents constipation in babies. The flavorful taste will not be rejected by your baby.
Ideas/Recipes - The best way to give fennel is by boiling a small quantity of fennel in water, filter the water using a cloth. Feed this water to your baby several times in the day for stomach related issues
16) Ajwain 
Recommended Age - At 8+ months and in powder form. Just a pinch in a day.
Benefits - Ajwain is highly beneficial and important to add in babies diet as it helps in treating respiratory problems like colds and chest congestion. The typical remedy includes inhaling the fumes of the roasted seeds or taking boiled ajwain water. It is very effective in treating asthma in children. It also helps in treating digestive issues like stomach ache, gas, flatulence, acidity etc and most importantly enhances appetite.
Ideas/Recipes - When you introduce, you can give it as ajwain water. Once the baby starts eating all the regular food, you can gradually include other ajwain recipes in their diet such as ajwain paratha or ajwain pooris. 
17)  Bay Leaf 
Recommended Age -  At 8+ months and only in water form initially.
Benefits - The organic compounds found in bay leaves are very effective for settling upset stomachs, soothing irritable bowel syndrome. Also, consuming bay leaves at bedtime helps induce proper sleep. 
Ideas/Recipes - One-two bay leaves can be added to hot water and given in small quantities after cooling it down. The popular way of use is to add a piece of bay leaf in hot oil while seasoning vegetable curry, pulao or khichdi for older kids.
18)  Star Anise
Recommended Age - At 8+ months. Use the powder of only half anise while starting it for the first time.
Benefits - Star Anise for babies is considered highly beneficial as these are an effective cure for flu. Infact, star anise contains a compound called 'shikimic acid' which is used to make the vaccines for 'Tami Flu'. Star Anise seed water is helpful in relieving coughing and chest congestion too. It is also helpful in relieving teething itches in babies. This sweet tasting recipe has an antiseptic and warming effect on the upper respiratory tract and also relieves runny secretions. 
In nursing mothers, anise seeds help stimulate milk production by raising the prolactin levels.  
Ideas/Recipes - Use this anise seeds to prepare a decoction or you can also use these seeds to put it in boiling rice to give a natural flavour of spice to the dish.
19) Coriander leaves
Recommended Age - At 6+ months. A few leaves either finely chopped as a garnish or in the form of a chutney or a paste.
Benefits - They are a wonderful source of dietary fiber, manganese, iron, and magnesium as well. It is especially very rich in Vitamin K. The benefits of coriander juice are that it is easily swallowed. It's a very good herb for the nervous system. It can improve memory, and great for eye-sight because of the rich presence of vitamin A. Use freshly chopped leaves for highest benefit.
Ideas/Recipes -  It can be finely chopped and used as a garnish on savory foods or the juice of coriander leaves can be given but not more than two tablespoons. It is commonly used as chutneys too. Replacing these chutneys with ketch up is not a bad idea at all :-)
20) Red Chilli Powder
Recommended Age - You can start this after 9+ months. In very small quantity just a pinch to start with.
Benefits - Chili powder contains sufficient amount of vitamin A which fulfills one's daily intake. Besides, it contributes to the maintenance of eyesight and takes care of bones, teeth, skin, internal membranes. Chili powder enhances the flow of fresh blood to the site of infections. 
Ideas/Recipes - A pinch of this chili powder can be added to vegetable curries and daals.
Tips: 
Use freshly ground spices or herbs for the maximum benefit. 
Buy the whole spices as much as possible instead of the ready-made powder or herb. Eg. Fresh ginger is better than ginger garlic paste mix.
The antioxidant property diminishes over time if you plan use store bought ready made powder. 
 A
Word of Caution:
Every child is unique and every baby's digestive system is different. So each spice could respond in a slightly different way for some babies. So always start in small quantities and do notice if you face any kind of food-related allergy in your little one. These allergies if any, go away with time, so do reintroduce again after a month or two and check again. And always consult your doctor when you begin to introduce new spices.
1 Response
Leave a comment
Comments will be approved before showing up.