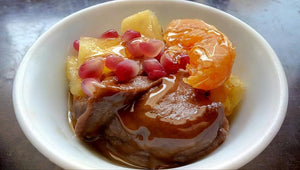 #NoBake #NoSugarRecipe#VeganDessert
Its amazing how our creativity expands when we start looking for alternatives for sugar or milk. I am having so much fun creating these super healthy desserts and enjoying them without feeling guilty with my son. I call it chocolate mousse, he calls it chocolate icecream. Who cares, its super healthy and takes 10 mins to make.
1 Cup cashews soaked in water for 2-3 hours
1-2 tsp of cacao powder
5-6 tsp of coconut oil/refined oil
5-6 tsp of honey or maple syrup or date syrup. I used maple syrup
1/2 tsp of vanilla essence
1 tsp of lemon juice
A pinch of rock salt
Blend to make a fine creamy puree. Add a little water if necessary.
Pour is small cups, add some chopped fruits on top, refrigerate for 2-3 hours. You can actually cut it like cheese cake.
Cashew nuts are rich in healthy fats good for weight gain, since its raw it has so many anti-oxidants and rich in minerals.
I am waiting to hear how ur little babies liked it.
#earlyfoods #organicbabyfoods #organictoddlerfood #babyfoodrecipe#toddlerfoodrecipe
Leave a comment
Comments will be approved before showing up.