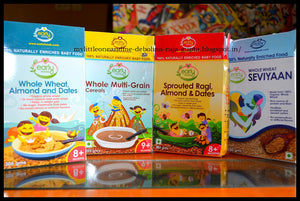 Debolina Raja, whose parenting blog is ranked among the "Top 15 Parenting Blogs" in India shares her honest product review about Early Foods.
"As a new mommy, Shalini realizes the importance of healthy and wholesome foods for young babies, especially when it comes to baby's first foods, and she also knows the many struggles a new mom goes through, including the struggles with time and finding that perfect blend that her baby will love. Also, there are times that a new mommy may not be able to realize just what all she should put in her baby's first few meals, so it can be quite a confusing time for a mommy, with too many ideas out there that only add to the confusion.

Shalini also believes in the goodness of traditional Indian foods and the pressures of nuclear families, and the nutritional needs that a pregnant woman and a new mommy need for their own health, as well as a first food for their little one. Hence was born the idea of launching Early Foods..."
Read the entire product review and talk in the link below.
http://mylittleoneandme-debolina-raja-gupta.blogspot.ae/2015/12/eaerly-foods-range-of-naturally.html