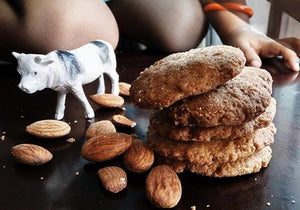 5 Ingredient Vegan Almond & Coconut Cookies - #Nobutter #vegancookies#Simplecookierecipe #nomaida
Those who have never baked, this recipe cant get simpler cause all you need is 5 ingredients and a delicious batch of cookies gets done in 30 mins. The best part is it does not need butter, we have simply used almonds to replace all the fat and protein. So its such a power food that even if your kid eats one cookie a day, its equivalent to eating 3-4 almonds!
Ingredients:
1 Cup almonds or 50-60 almonds
5-6 tsp of oil (any oil, I used coconut oil)
1/2 cup organic brown sugar
3/4 cup of whole wheat
3 tsp of grated coconut
Makes about 30-35 cookies sized similar to a Good Day biscuit.
Procedure
To make almond butter, just grind the almonds together to make a fine paste. This will take about 10-15 mins and it becomes a fine paste as the almonds start leaving out all the oil. Be patient, its a slow process. If your almonds are slightly warm, the process is faster. You can add 1-2 spoons of oil to help blend easily. At the end add the grated coconut to blend almond and coconut to a paste.
Next Powder the organic brown sugar to a fine powder.
Preheat oven to 180 degree for 10 mins.
Take a broad bowl, mix all the ingredients together - Almond butter & coconut paste, sugar, whole wheat, oil to make a dough. Make small balls and press to shape it to a cookie on your palm.
Place the cookies in the preheated oven for about 10 mins or till u observe the sides are turning slightly brown.
Once cookied, take out and allow to cook for 10-15 mins. Store in an air tight container. You will be surprised they are so crispy and crunchy. A perfect snack that you can allow your kids to munch on without saying no
:-P
Btw, check out the happy cow next to the cookies
:-) and my son waiting to put his hands on the cookies while I take a picture..
#organicbabyfood #earlyfoods #organictoddlerfood #homemadebabyfood
Leave a comment
Comments will be approved before showing up.