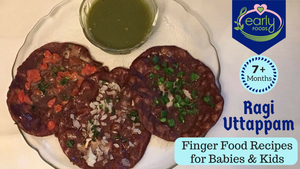 Uttapams are just fluffier & thicker version of dosas. When combined with ragi it becomes super nutritious since the calcium in ragi is 10 times higher than wheat. Also, ragi is known as the wonder grain due to its rich supply of vitamins and minerals.
The veggies added in the uttapam will provide that extra punch of vitamins and minerals to stay charged up through the day.
Check out our quick 2 min video below for the procedure. Please subscribe to stay tuned for all our healthy & innovative recipes for babies & kids!
Preparation Time: 05 mins
Fermentation Time: 20-30 mins
Total Cooking Time: 10-15 mins
Serving portion:  10-15 
Ingredients
Ajwain/carom seeds - 1 tsp
Jeera/cumin seeds - 1 tsp
Ragi flour - 1 cup (100 g)
Rice flour - 1/4 cup (50 g)
Green chili chopped - 1
Curd - 1/4 cup (50 g)
Salt - to taste (optional)
Water - as required
Onion chopped - 1 small
Tomato chopped - 1 small
Capsicum chopped - 1 small
Method for the roasted ajwain & jeera powder:
Take a non-stick pan, roast ajwain & jeera for 2 mins over medium heat.
Transfer it to a mortar & pestle and grind till it becomes a fine powder form.
Keep aside.
For the Uttapam Batter & Dosas:
In a bowl add ragi flour, rice flour, green chili, curd and mix.
Add salt and water. mix till it becomes a pouring consistency.
Cover & keep it aside to ferment for 30 mins.
After it ferments, take a non-stick pan and put it over medium heat.
Pour the batter in the center to make a small circle
Drizzle some oil in the sides
Sprinkle a little-roasted ajwain & jeera powder.
Sprinkle onion & coriander. 
Cover it with a lid and let it cook for 2-3 mins
Cook on the other side if required
Serve warm with Sambhar, Dal or Chutney
Quick Tips:
1) For different variations, you can add chopped tomato, chopped capsicum or even add all the veggies together.
2) Best eaten hot as uttapam tends to be thick, consuming it when cold will make it rubbery.
3) Adding Ajwain & Jeera powder in the batter makes the Ragi to be easily digested by little babies.
4) Keep the dosa's small sized. Ragi does not have gluten, so it tends to break easily if the dosas are made big & heavy.
1 Response
Leave a comment
Comments will be approved before showing up.