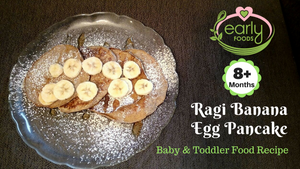 A classier version of waffles is pancakes. Pancakes are an amazingly delicious breakfast food and incredibly easy to make. The store bought ones have extra processed sugar and refined bleached white flour which can be avoided easily because this recipe needs only 4 ingredients and takes less than 5 mins to make.
To make pancakes more nutritious, we are adding sprouted ragi flour instead of maida or white flour. You can easily make sprouted ragi at home and use the flour for many recipes.Fresh ripe bananas add natural sweetness and eggs binds the pancake together.
For growing kids Eggs are an incredibly nutritious component of breakfast.They contain Vitamin A, Vitamin B5, Vitamin B12, Vitamin B2, Folate, Phosphorous, Selenium. Bananas are a great source of potassium and calcium and Ragi contains a treasure trove of vitamins and minerals especially Calcium.  
Lets get started! 
You can check out our 2 min video below for the procedure. Please subscribe to stay tuned for all our healthy & innovative recipes for babies & kids! If you just love to read, carry on below to know the detailed recipe & procedure.
Preparation Time: 05 mins
Total Cooking Time - 20 mins
Serving portion-  06-08 pieces
Ingredients:
Banana - 1 1/2
Eggs - 2
Ragi flour - 2 tbsp
Butter or any oil - for greasing
Honey - 1 tsp (optional)
Powdered sugar (icing sugar) - 1/2 tsp (optional). You can use dates powder too.
Cinnamon powder - a pinch
Method:
Peel and mash 1 banana with a fork to make a soft puree.
Add ragi flour & mix to make a paste.
Add the eggs to it and whisk well to make the batter. Mix well so there are no lumps from the ragi flour.
Place a non-stick pan over medium heat.
Grease the pan with butter or oil and pour a small amount of batter.
Small pancakes are easier to flip. Since there is no gluten, there are higher chances for the pancakes to break off when flipping.
When the batter starts to make small bubbles flip it and cook on the other side.
After the pancakes are done place them on a plate.
Slice the remaining 1/2 of a banana and spread it on top of the pancakes.
Lastly, drizzle the honey and sieve some icing sugar on top and serve.
Quick Tips:
1) In a small bowl mix the sugar and cinnamon together and sprinkle it on top of the pancakes through a sieve, which is optional if your baby is less than 12 months old.
Leave a comment
Comments will be approved before showing up.