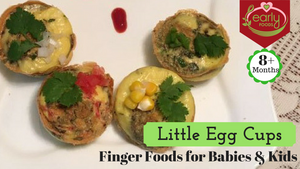 Eggs are an incredibly nutritious component of breakfast that every mother should try to include at least every other day.They contain Vitamin A, Vitamin B5, Vitamin B12, Vitamin B2, Folate, Phosphorous, Selenium, and lot of protein.
These innovative egg cups are simple to make, are in a new form & texture that your kid can cut, bite, chew & explore. Adding different vegetables and herbs to turn it into a deliciously healthy finger food for your little one.
Check out our quick 2 min video below for the procedure. Please subscribe to stay tuned for all our healthy & innovative recipes for babies & kids!
The detailed recipe & notes are given below. Let's Begin!
Preparation Time: 05

 

mins
Total Cooking Time- 20

 

mins
Serving portion-  04 pieces
Ingredients:
Eggs - 4
Finely Chopped mixed veggies (onion,tomato,capsicum & sweetcorn) - 1 Cup
Freshly chopped coriander - 1 tbsp
Salt & Pepper- 1/2 tsp
Dry Basil- 1 tsp
Dry Thyme-1 tsp
 Method:
Pre-heat the oven @350 F/180 C.
Chop all veggies and keep aside.
Break the eggs & add salt & pepper.
Add chopped coriander & whisk it all together in a bowl.
Take a muffin tray & grease it with oil (if it is not a silicone tray.)
Divide the mixture into the molds filling it till 2/3rd
Add the sauteed veggies to the mixture in separate cups 
Sprinkle dry basil to the tomato & corn 
Sprinkle dry thyme to the onion & capsicum cups. 
Bake in the oven @350 F/180 C for 20-25 mins.
Take it out and de-mould.
Garnish with fresh coriander. Serve hot.
Quick Tips:
1) You can also use alternative ingredients instead of chopped veggies like mushrooms, broccoli, yellow & red bell peppers, chicken, etc.
2) Dry basil goes well with tomato and corn but not onion and capsicum avoid using the same on them.
3) Different herbs like thyme can be used to make innovative combinations.
Leave a comment
Comments will be approved before showing up.