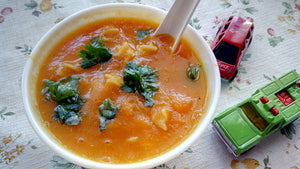 Carrots are an amazing source of beta-carotene, fibre, antioxidants and whole goodness of minerals. I remember crunching on this juicy vegetable when I was a kid. But for babies with no teeth, you need to feed them in a completely different form.

Steaming carrots to make a puree, ensures most of the nutrition and yumminess is retained. Overcooking these can reduce the number of antioxidants. I have added organic whole wheat pasta to add a little texture, that introduces your baby to slowly get to the habit of biting and chewing.

So lets get cooking!

Ingredients:

Fresh Carrots: 2
Tomatoes - 1
Garlic - 2 pods
Whole Grain Pasta of your choice - 1/2 cup
Pepper - 1/4 spoon
Turmeric - 2 pinches
Lemon - 1 Spoon of the juice or Amla Powder - 1/2 Spoon (This is the best way add a bit of natural saltiness to any dish)
Salt - (if your baby is older than 1 year)
Oil of your choice - I used one spoon of groundnut oil
Mustard/Jeera - 1 Pinch each
Coriander - 1 spoon chopped

P.S. You can buy Organic Sun-dried Amla powder from our store.

Method:
1. Wash Peel carrots and chop them to small pieces. Chop Tomatoes too. Peel the garlic. All these can be big chops too, because we just need to steam them.
2. If you have a steamer great, if not, just take a big broad vessel and pour 1 big glass of drinking water. Place the chopped carrots, garlic and tomatoes
in a smaller cup and keep it inside this big vessel. Close the lid and allow it to get cooked in steam for 10 mins.
3. Once the carrots and tomatoes are cookied. Puree them a blender
4. While the veggies are getting cooked, you can boil the pasta in another bowl for 7-8 mins. Take a broad bowl filled with water, bring it to boil and add pasta
and cook for 7-8 mins. Dont overcook, else they will turn into a paste when you add them into the soup.
5. Once pasta is cooked, drain all the water and keep them aside.
6. In another pan, prepare to season by adding a spoon of oil, add the mustard and jeera. Add the carrot puree, pasta, turmeric, pepper, lemon or amla powder or salt if your baby
is older than 1 year.
7. Cook for 2 mins
8. Add some fresh herbs. Serve warm

Just an idea, you can then separate a little bit of the pasta from the soup and place it in a small bowl. Invite your babies to try and pick
them and promote baby-led weaning. Believe me this habit can save you a ton of time over the coming 3-4 years :-P

Try the recipe. Drop your comments and do share it with fellow mommies.
Leave a comment
Comments will be approved before showing up.