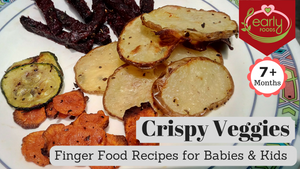 When we go for dinners outside at restaurants the usually preferred starter is Crispies. Now those crispies come filled with packaged ingredients and of course, the high unhealthy usage of corn flour to it is not helping much to your kid's diet. So we bring to you a healthier version of the same that can be made easily at home. The presence of Vitamin A in carrot along with the high content of iron in beetroot and the vitamins from zucchini will surely make this an all-rounder go for snack contributing to the nutritional requirements of your child while simultaneously meeting the requirements of the big taste buds of your tiny tots :)
Check out our quick 2 min video below for the procedure. Please subscribe to stay tuned for all our healthy & innovative recipes for babies & kids!
Preparation Time: 10 mins
Total Cooking Time: 20 mins
Serving portion - 15 pieces
Ingredients:
Carrot - 1
Beetroot - 1
Potato - 1
Zucchini - 1
Oil - 4 tsp
Salt & Pepper - 1/2 tsp
Dry Basil - 1 tsp (Another other herb of your choice will also be okie)
Method:
Pre-heat the oven @392 F/200 C.
Wash all the veggies & peel only the carrot and beetroot.
Slice the carrot, potato & zucchini.
Slice the beetroot & cut it in the shape of a fry.
Put the veggies in a bowl, add oil and the seasonings & mix.
Place a sheet of butter paper on the baking tray and line the veggies in it.
Put it in the oven & bake @392 F/200 C for 20 mins (10 mins *flip* 10 mins).
Once done take it out and serve.
Quick Tips:
1) Do not use aluminum paper for baking. It is considered unsafe especially for kids.
2) Serve it hot and fresh, since it is baked it will tend to get rubbery if eaten cold.
Leave a comment
Comments will be approved before showing up.